World-Class & Certified
All Paul Bram diamonds are certified by the Gemological Institute of America (GIA), the world's foremost authority on diamonds.
Hand-Selected Diamonds
Only diamonds of the finest quality are chosen for their ideal cut, polish, and symmetry to ensure maximum scintillation and brilliance.
Perfectly Packed & Wrapped
Our packaging is of the highest quality and reflects the care and attention we give to each diamond selected for our jewellery or rings.
Truly Custom Creations
We will hand the creative reins to you and help you to craft the perfect custom and truly unique engagement ring for your dream proposal.
★ ★ ★ ★ ★

"Have thoroughly enjoyed the experience of shopping a wedding ring for my partner. Sam was exceptional with his customer service skills and made the process of buying a ring extremely swift and enjoyable. He was very detailed with his explanations and answered any questions we had."
— 
Sagar Goswami
★ ★ ★ ★ ★

"I recently had my engagement and eternity ring which I purchased from Paul Bram 39 years ago remodeled into one ring and Jane was fantastic in it's new creation. She has incredible patience and knowledge and has assisted me in choosing 4 more beautiful pieces."
— 
Gina Poulos
★ ★ ★ ★ ★

"I went into Paul Bram not knowing a thing about engagement rings but Wilson was there to help me every step of the way. He was very knowledgeable and had a great personality and he knew exactly what he was talking about. The quality of the diamonds and rings at Paul Bram are exceptional."
— 
Ashley Barker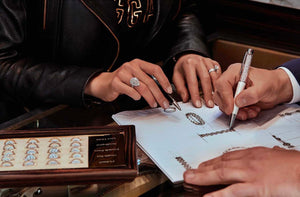 Prefer to shop in store?
Meet with a designer at our showroom
The talented design team at Paul Bram are here to help you select from the world's finest diamonds and attentively handcrafted gold and platinum bands.
Book an Appointment